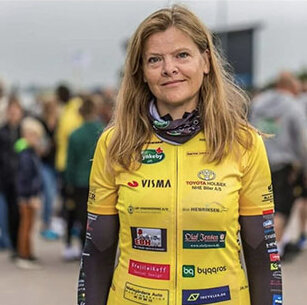 Susanne Krasilnikoff
Founder and CEO of Krasilnikoff A/S
KRASILNIKOFF A/S - A GOLD SPONSOR OF TEAM RYNKEBY 3 YEARS IN A ROW
Krasilnikoff A/S has a long-term sponsorship agreement with Team Rynkeby. Nordic's charity cycling team. Every year, they cycle to Paris with the ultimate goal of raising funds for children with cancer and for their families.
When Team Rynkeby, will be touring to Paris again this year, to support the fight against Childhood Cancer, Krasilnikoff A/S will be standing behind them as a Gold Sponsor, and alongside as a teammate cycling to Paris, three years in a row.
Krasilnikoff A/S has signed a gold sponsorship with Team Rynkeby in 2017, 2018 and in 2019 - the Nordic largest charitable organization. Today's Team Rynkeby comprises 2,100 cyclists and 500 volunteers, divided into 54 local teams in Denmark, Sweden, Finland, Norway, the Faroe Islands, Iceland and Germany.
Cancer is a terrible disease that affects all too many people. "As a parent, I could not imagine what it must be like, that one of my children would be affected by cancer. This is why, I wish to help these children, with cancer, and their families", says Susanne Krasilnikoff.
It will be the 18th time, that Team Rynkeby will be cycling to Paris, a 1,380-kilometer trip. Rynkeby Foods A/S covers the primary costs of the project. This means that every penny that Team Rynkeby raises in each Nordic country goes to the local childhood cancer association in that country.
In 2018, Team Rynkeby donated € 9,4 million to organizations that help children with a critical illness.