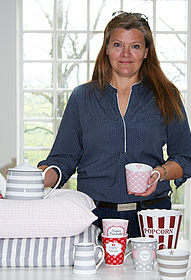 Susanne Krasilnikoff
Founder and CEO of Krasilnikoff A/S
"Danish design for everyday use and everyday joy"
This slogan, stated by Susanne Krasilnikoff, represents the goal of Krasilnikoff – to design and produce items that are used everyday and that bring everyday joy in one's home. It can be a favourite statement mug. Your favourite dessert plate because of the lovely design of flowers and colours, or for their pinstripes, or even your favourite tea towel hanging in your kitchen that brings you a certain smile and happiness, when you glance at it. Every detail and design of the motifs, statements and colours of the products are carefully thought through the design process. Krasilnikoff also likes to think what would our clients and followers think of this statement, for example? Would they prefer this statement or this one? The designs, motifs and statements that are chosen, are then available through-out the tableware selection, so they can be mixed & matched - combined as cups, mugs, dessert plates together with the home textiles. Enabling you to select the design & motif of your choice to create your own style in your Home.
All their designs are made in-house, in Denmark, and the products are manufactured by our long-time established suppliers in Asia, which are carefully selected for their craftsmanship, quality and good collaboration.
The company has three well established brands: Happy Mugs, Happy Stars and Happy – their line of textiles. The Happy Mugs is one of Krasilnikoff's core products in the tableware selection. They have been designing them since December 2013 and launched them on the market in 2014.
Krasilnikoff launches 2 collections per year: a Spring/Summer collection combined with an Easter collection and an Autumn/Winter collection together with a Christmas collection.
The Danish designed items are inspired by the Nordic and family traditions that take part during the different seasons of the year.